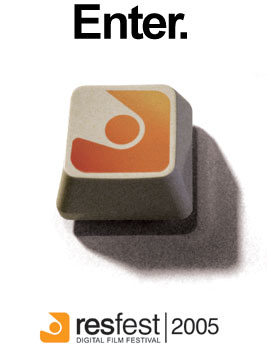 . HANGAR
intercambios internacionales de la Fondazione Pistoletto Convocante: Hangar. Asociacion de Artistas Visuales de Cataluna (AAVC) / Fondazione Pistoletto
Plazo: 4/04/05.
http://www.hangar.org/html/index.php
. MADRID ABIERTO 2005
Plazo: 31/05/05
http://www.madridabierto.com/
. HANGAR-QUEBEC-AAVC
para artistas visuales
Plazo: 20/06/05
http://www.hangar.org/html/index.php
. PANTALLA ABIERTA
Espacio de TV para videoartistas y creador@s en vídeo que deseéis mostrar vuestros trabajos en nuestro programa. Máximo 10 mn.
www.meteorik.com
. ARTIST RESIDENCE: THE EDITH RUSS SITE FOR MEDIA ART
The Edith Russ Site for Media Art will award 1 six-month work stipend from July to December 2005 for artists working in New Media.
deadline: 15 MAR 2005
http://www.edith-russ-haus.de/
. DIVERGENTES 2005
ESTANCIA DE 10 ARTISTAS INTERNACIONALES EN CENTROS TECNOLOGICOS O EMPRESAS INNOVADORAS DEL PAIS VASCO
deadline: 8 MAR 2005
DIVERGENTES 2005 es la primera edicion de un proyecto cuyo objetivo es promover la relacion entre la innovacion tecnologica y la creatividad artistica. Consisteen la estancia de 10 artistas internacionales en centros tecnologicos o empresas innovadoras del Pais Vasco para producir una obra con los conceptos,materiales, tecnologias y/o productos desarrollados por dichas empresas.
pintura, escultura, fotografia, video, multimedia,
instalacion
http://www.artesdivergentes.com
. ALTAS FRECUENCIAS
Se convoca a todos los realizadores audiovisuales jovenes de Sudamerica a participar en el proyecto ALTAS FRECUENCIAS; Programa de television que abordara la problematica sudamericana de los artistas
jovenes emergentes de Chile, Argentina, Peru, Ecuador, Colombia, Venezuela y demas paises intesados en participar.
http://www.perez-araya.ar.gs
. AUDIOVISUAL DE LA 22 MARATO DE L'ESPECTACLE
3 y 4 de junio
Un ano mas os queremos comunicar que ya esta abierta la CONVOCATORIA para participar en la SECCION AUDIOVISUAL dentro de la 22 Marato de l'Espectacle que tendra lugar los dias 3 y 4 de junio en los espacios de la Ciutat del Teatre (Mercat de les Flors, Teatre Lliure, Placa
Margarida Xirgu)
http://www.marato.com
. KINETIC SOUND SYSTEM KinTools 0.1
Hemos desarrollado el sistema sonoro del SIGLO XXI.
La MUSICA CINÉTICA es diferente a todo lo que has escuchado. Cualquier género musical puede funcionar en este sistema. Descarga GRATIS la aplicación y crea música 5.1 en movimiento.
Si eres desarrollador puedes colaborar con el proyecto.
http://www.kineticsoundsystem.com
. INCIDENT
Thank you to send us your netart/videoart projects by email before March, the 31st of 2005. Only the works using technologies (interactivity, generativity, network,
etc.) will be selected.
http://incident.net
. CALL FOR NEW VIDEO/INSTALLATION WORK
Lijiang Studio is looking for new work which examines moving images and the many circumstances in which they are seen. During the last week of March, we will organize an interactive exhibition of videos and installations in the ALAB art space.
http://www.lijiangstudio.org
. RESFEST
the biggest digital film festival in the world, is seeking the world's most innovative short films, animation design films and music videos for its 9th annual tour! The early deadline for submission is April 15, 2005
http://www.resfest.com/
. MADCAT
The MadCat Women's International Film Festival is now accepting submissions for its 9th annual
Festival which will take place this September 2005. MadCat seeks provocative and visionary films
and videos directed or co-directed by women. The Festival is committed to showcasing women
directors from around the globe who challenge the use of sound and image and explore notions
of visual story telling. MadCat screens works of ALL lengths and genres, about any topic and that
are produced ANY year.MadCat sets itself apart from other women's festivals by curating its
programs thematically and thus accepting a range of films about many different issues. MadCat
is also committed to finding the most diverse group of filmmakers possible and is doing extensive
outreach to international filmmakers and filmmakers of color.
http://www.madcatfilmfestival.org
.
. PREMIO DE NARRATIVA LESBIANA "Ellas Editorial"
http://www.ellaseditorial.com/concurso.htm

. JOVES ARTISTES
Al Casal de joves Les Corts estan buscant joves artistes que vulguin mostrar el seu espectacle.
Programa "ACCIONS DE NIT".
Casal de Joves les Corts
C/Dolors Masferrer 33-35
Barcelona 08028
Telf. 93.291.64.99
. EXPOSICIONS dels Lluïsos de Gràcia
Els Lluïsos de Gràcia s'encarregarà de:
- Editar i distribuir els cartells publicitaris i informatius.
- Trametre als mitjans de comunicació la nota de premsa.
- En cas necessari, els Lluïsos de Gràcia cedirà els marcs per a
l'exposició (8 de 70x50 i/o 18 de 50x40).
- Ofereix la possibilitat de fer una inauguració de l'exposició.
Envia'ns la teva proposta a secretaria@lluisosdegracia.org
http://www.lluisosdegracia.org