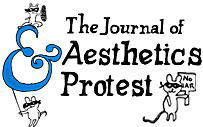 >>> ACTIVISMO, ARTE Y CRÍTICA // Los Angeles
** enviado por Marc @ journal of aesthetics and protest **
"We are need of articles from europe that get to what Europe can/should be adding to this dialogue.
If you have any ideas/suggestions for articles, feel free to respond."
submission call- issue #4 Journal of Aesthetics and Protest
The task of the fourth issue of the Journal of Aesthetics and Protest is to describe being. This issue of the Journal challenges both
the US government's insistence on unipolar meanings and neoliberalism's theft-like "open" networks by reclaiming territories of productivity, emotion, possibility, andthe communication of truth.
This issue hopes to reinvent a materialist agenda for
creative social politics
by focusing on the real effects of war, and of racism, sexism, classism and on the ways these attitudes distract us from taking collective action.
The Journal wants to promote a discourse on resources and the concrete effects that individual and collective projects and performances have in their own and other's communities.
y buena sección de linx!
Journal of Aesthetics and Protest