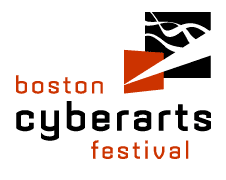 Festival encompasses more than 70 events at over 50 venues in and around Boston
Feng Mengbo, Scott Snibbe, Bill Seaman, John Klima, Tamiko Thiel,
and
Mary Ellen Strom
are among featured artists
Ideas in Motion conference & event series explores dance + technology
The creative connection between two of Boston's most vital forces - the arts community and the high-tech industry - is once again in the spotlight at the fourth Boston Cyberarts Festival, featuring more than 70 exhibitions and events at museums, galleries, theatres, and public spaces in and around Boston and Cambridge, Massachusetts, from April 22 through May 8.
The Boston Cyberarts Festival, a biennial event founded by Director George Fifield and launched in 1999, is the first and largest collaboration of artists working in new technologies in all media in North America. The Festival encompasses a variety of art forms - visual arts, dance, music, film, new media, public art, literature, web art - and represents the efforts of dozens of organizations, all of whom, within their own missions, are producing exhibitions, performances, screenings, or symposia that explore the impact of technology on art.
http://www.bostoncyberarts.org