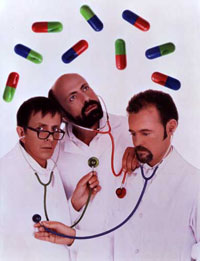 El Project Arts Centre de Dublín inaugura el 27 de febrero una exposición retrospectiva de la obra del colectivo canadiense General Idea , fundado en 1968 por AA Bronson, Felix Partz y Jorge Zontal

General Idea was a collective of three Canadian artists, Felix Partz, Jorge Zontal and A.A. Bronson, who were active from 1969 to 1994. Pioneers of conceptual and media-based art in Canada, their collaboration became a model for artist-initiated activities and a prominent influence on later generations of artists.
General Idea's work inhabited and subverted forms of popular and media culture, including beauty pageants, boutiques, television talk shows, trade fair pavilions and media. Their work was often presented in unconventional media forms such as postcards, prints, posters, wallpaper, balloons, crests and pins. Their work also often illuminated gay-related themes, including the AIDS crisis.
Both Partz and Zontal died of AIDS in 1994. Bronson continues to be active in Canadian art, and has archived much of General Idea's work at the National Gallery of Canada.
Más info:
General Idea website
File under:
arte conceptual _ mail art _ 70s media art _ FILE Magazine _ popular culture

jpg_ Playing Doctor 1992